Gamification is one of the most proven ways to engage and motivate online community members. How can you put it in play?
There is a science behind gamification, and it turns out, it's not as hard as it may seem. Our Chief Scientist, Dr. Michael Wu, has patented a continuum of techniques that can help you choose the right gamification plan for your customers, depending on the behaviors you want to drive. We call it the Gamification Spectrum.
There are many types of gamification techniques. For example, if you want your online community members to contribute more content, you may offer badges for those who make a certain number of posts; or they may work to level up to the next reward that provides recognition among other players for their expertise or skill.
In this report, we take a deep dive into the range of techniques, and provide guidance on how to be successful with gamification.
"There are important scientific principles behind the strategy of gamification that impact whether or not gamification proves to be successful for your community and brand."
Putting Gamification to Work for Your Community
Learn about the key factors of the Gamification Spectrum and how to maximize engagement by your customers.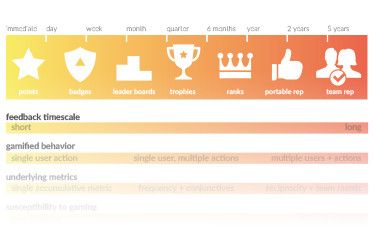 Defining the Gamification Spectrum
The Spectrum organizes existing gamification tools -- points, badges, leaderboards, ranks, goals, etc. -- to help you choose the right tools to meet your goals. Read the report to understand the Spectrum and put it to work for you.
Nine Patterns of Gamification
Within the Spectrum there are nine interesting patterns and trends exhibited by gamification tools, including gamified behavior patterns, susceptibility to cheating, implementation and extinction period. Learn about all nine patterns in this report.
Scale and Sustainability
There isn't one magic gamification tool that can engage a huge population for a long time. So which tools should you use? If you want to drive behavior, you'll have to decide whether it's more important to drive it for a lot of people, or for a long time. Dive deeper into these concepts in this report.
Download the Guide
Learn how to engage your customers better in your online community with gamification.